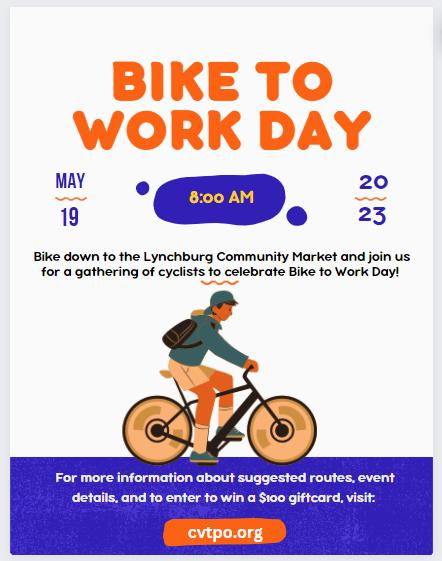 May is Bike to Work Month!
To celebrate, we will be holding a Bike to Work Day gathering at the Lynchburg Community Market on Friday, May 19.
At the Community Market, we will have a table with prizes to giveaway as you gather and network with other cyclists.
In the event of inclement weather, you will be notified of cancellation of the event by email. For this reason, we ask that you register using the link below by May 18 at 12 noon.
To register, please visit https://forms.gle/1BcL5aZdrcFLWcYN6.
Lastly, we encourage you to visit ridesolutions.org/ to register for our app, and for each time you commute by bike (and log your trip) in May, you will be entered to win $100 gift card.
---
Feel free to bike on any route you'd like, but if you need recommendations, we've provided two below.
Rivermont Route
*Meet at the entrance to Riverside Park at 7:30 am. Take Rivermont Avenue to Main Street and then go left at 12th street.
Kemper St Route
For those who may not be able to bike all the way to work, you can ride on the GLTC bus and bring your bike along for the last leg of your trip!
*Meet at the gates of Kemper St station, take Buchanan Street to 12th Street and then Main Street.